Mellieha Branch, Sanctuary Square, Mellieha, MALTA
---
A Society with one sole aim: spreading the Word of God to his people, being young or old.
M.U.S.E.U.M. members in the Mellieha Branch:
Alfred Borg (Superior Brother), Oliver Aquilina, Remmie Micallef, Noel Debono (Brothers)
The Venerable Fr George Preca founded the Society of Christian Doctrine, better known as the M.U.S.E.U.M., in 1907. This society includes lay men and women who learn the Word of God and teach this powerful Word to others. The acronym M.U.S.E.U.M. stands for the Latin words Magister Utinam Sequatur Evangelium Universus Mundus - "Master, may the whole world follow the Gospel!", undoubtedly, Fr George's greatest wish

Throughout the years, several branches of the Society opened all over the Maltese Islands. Our Mellieha branch opened its doors for the village youths on the 22nd of October 1978. Every year, the brothers of the branch prepare from 40 to 50 10-year-old children for receiving the holy sacrament of Confirmation. We also teach catechism to children of ages 11 and above. About 70 preteens and adolescents attend our branch on a regular basis.
This religious education is carried out daily, and all year round. We also organize other activities, mostly in the festive or summer seasons, such as hikes, sports week, football league, quizzes, barbecues, and swimming events.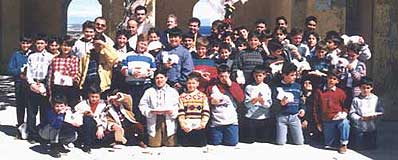 If you would like more information about Christian Doctrine Society, please visit our web site at http://www.sdcpreca.org, send an e-mail to sdc@waldonet.net.mt, or write to us on the above address.
May the peace of the Lord be always with you.
Maltaserv Bannerlink
---

©Copyright 2003-2004. All rights reserved.
All copyrights and trademarks are the property of their respective owners.
Reproduction in whole or in part is strictly prohibited.